More results

Design process: First, users import a library of materials and tools so that the compiler can map design features to fabrication operations. Second, they create a design in an intuitive interface. Third, at each step of the design process, our verifier checks the manufacturability of the design; for example, in (c), the maximal radius of curvature is too big for the part to be fabricable using any of the available processes in the library. Fourth, the compiler generates a set of fabrication plans with different trade-offs. The instructions generated without optimization are shown in orange, and the outputs of our system (i.e., optimized instructions) are shown in green.

System pipeline. The input to our system is a HL-HELM program designed by a user in our IDE. The verifier first checks if the design is manufacturable. The compiler converts the verified HL-HELM program to a LL-HELM program. Then the various optimizers populate an e-graph by finding various equivalent optimal programs. Finally, the extractor performs a multi-objective optimization to find the most optimal programs from the e-graph.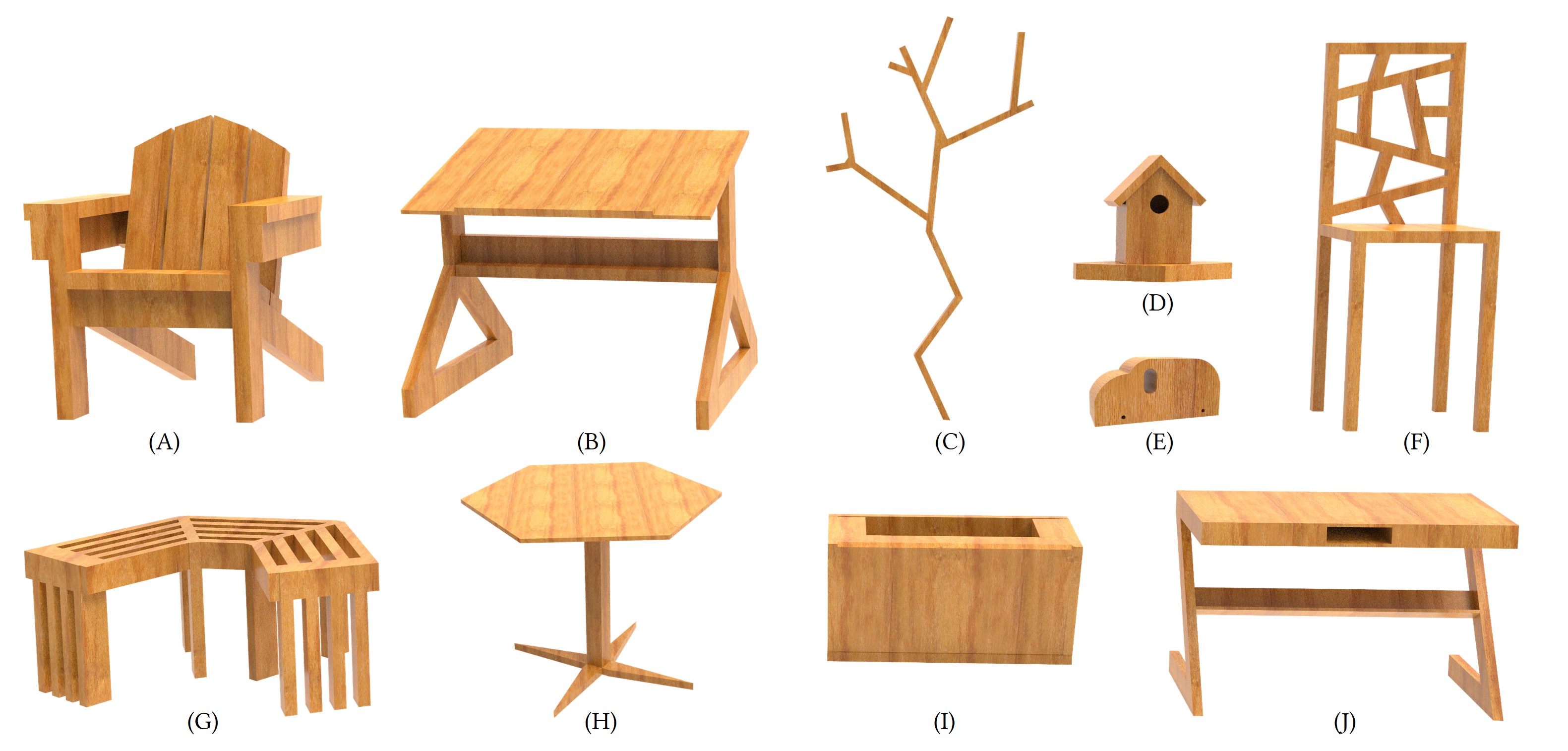 A gallery of carpentry designs modeled in our proposed system. The design time for each model is as follows. (A) Adirondack chair: 3:30 hr; (B) Drafting table: 2:16 hr; (C) Book case: 1:00 hr; D) Bird house: 1:38 hr; E) Toy car: 0:45 hr; F) Dining room chair: 1:20 hr; (G) Bench: 2:02 hr; (H) Coffee table: 0:56 hr; (I) Flower pot: 2:00 hr; (J) Z-table: 1:34 hr.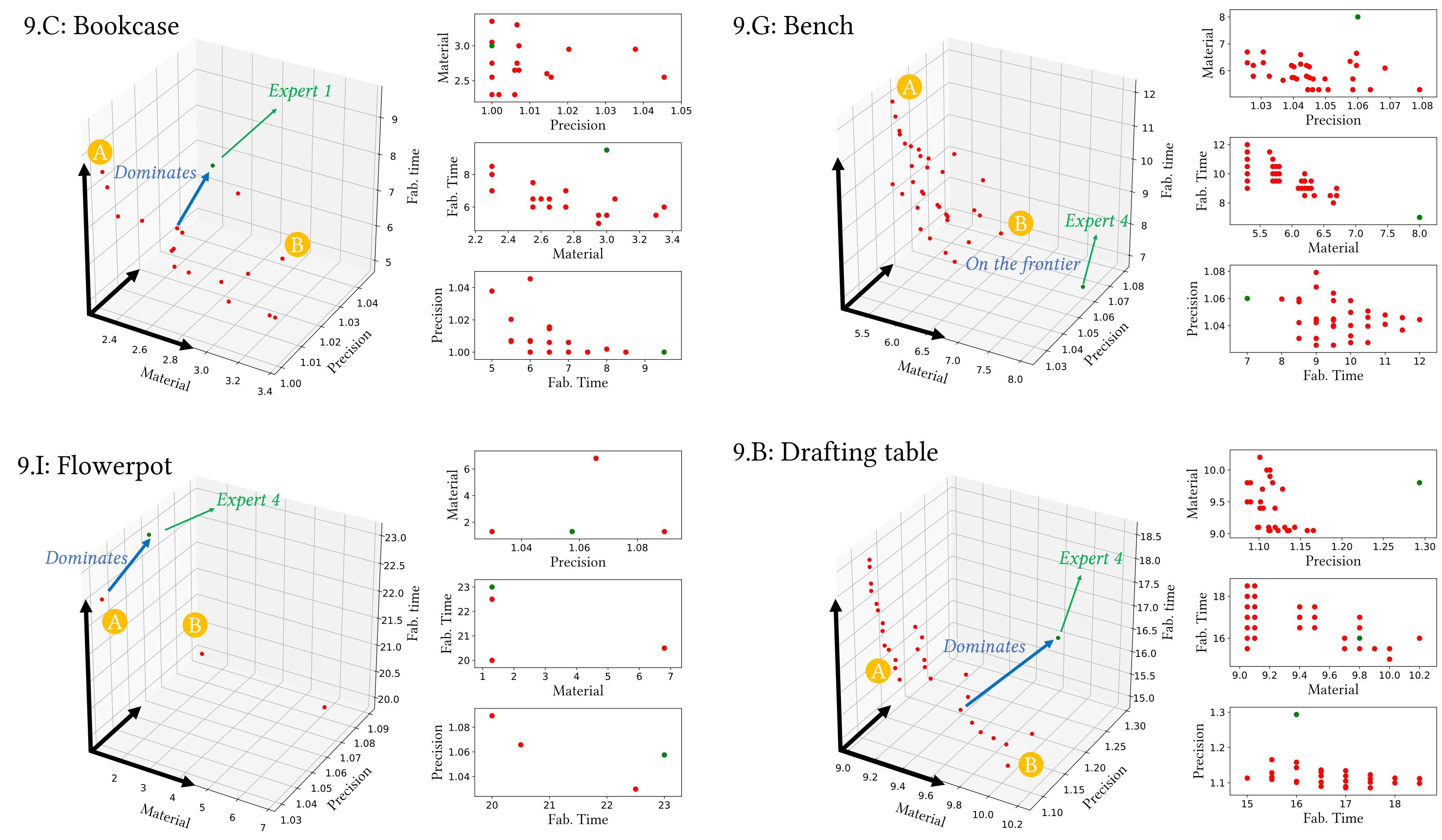 Results of the Pareto-fronts discovered by our system (red) as compared to fabrication instructions hand-written by experts (green). For each example,we highlight a point in our discovered front that Pareto-dominates the expert fabrication plan. In addition to the 3D plots, we show 2D projections on the three main axis for better visualization of the different trade-offs.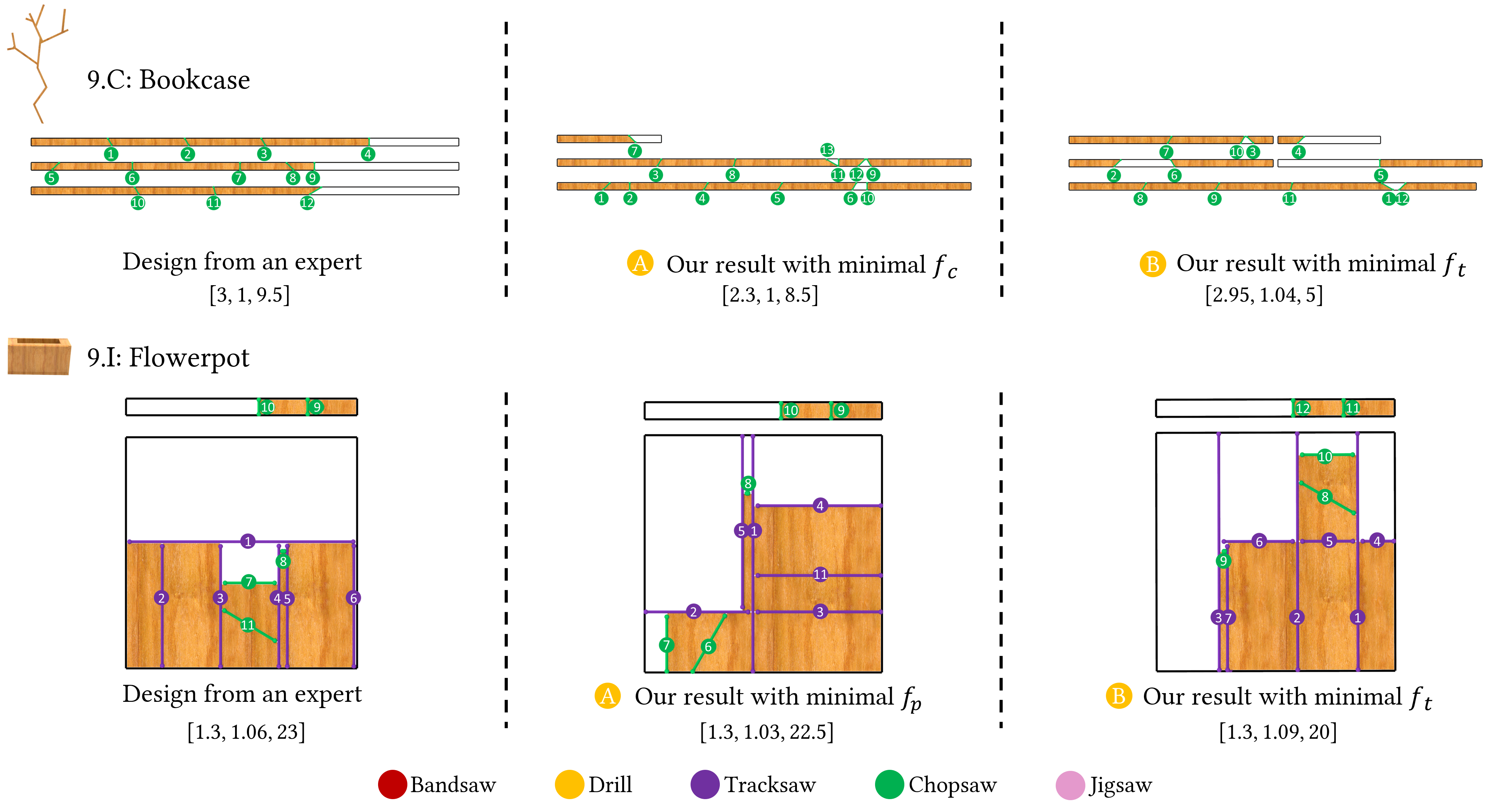 The visualization results of our auto-generated LL-HELM programs and the fabrication plans hand-written by experts. Colors identify the process and numbers the order of cuts. The costs are shown in the order:
square brackets below each figure.